The NYC Department of Finance released the Fiscal Year 2016 Final Assessment Roll. The final assessment roll is the schedule of taxable values that property taxes are based on. Using this data,
REBNY Research
calculated the total amount of property taxes projected to be levied (Real Property Tax Levy) in the upcoming fiscal year.
The Real Property Tax Levy for Fiscal Year 2016 will be $23.974 billion, assuming there is no change in the average tax rate. Should the average tax rate for all property classes stay the same for FY 2016 as it has since FY 2010, NYC is due for another large increase in the Real Property Tax Levy, $1.383 billion.
The only occurrences of larger increases in the levy were in FY 2003 and 2004 and FY 2009 and 2010. In these years, the levy increase was due to a significant increase in the average tax rate. Here are the annual tax levy increases from 2001 to 2016.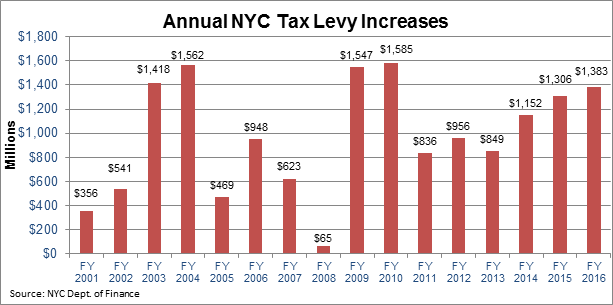 source: REBNY Research